Chlamydia testing gets even easier
Somerset has been offering simple free, confidential screening for chlamydia since 2007 to all 15-24 year olds
In July 2016 we made testing even easier with unisex postal kits available to pick up from over 200 sites across Somerset or online from www.freetest.me or by texting TEST followed by your age and Postcode to 60777
Feedback from service users so far has been extremely positive: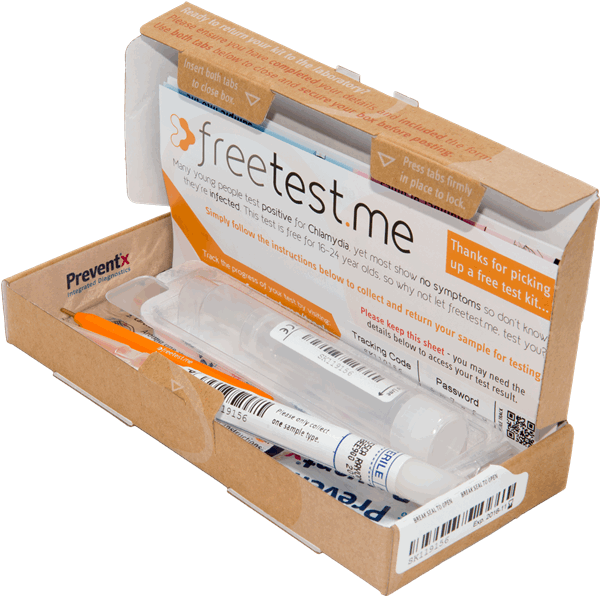 Easy and simple.
So easy that no one has any excuse to not get tested regularly.
5 star review left by Anthea from Somerset.
Quick and easy
Really great service. Received my kit within a couple of days. The company kept texting me to remind me that the kit was due to expire which I found really helpful. No embarrassment like there is when doing a test at the clinic or picking one up from town. Clear instructions on how to carry out the test and easy to send off. I think it's really good that you can track your sample using tracking code and access key
5 star review left by Hannah from Somerset.
Great service
Great service, easy, quick and discreet. Highly recommended.
5 star review left by Easyas123 from Somerset.
Amazing
Free test me is amazing , it's super quick & easy to do . No embarrassing trips to the clinic , can do it at home in privacy then pop it in the post without anyone else needing to know!
5 star review left by Abigail from Somerset.
Fast an discreet A*****
Was discreet instructions were simple to follow everything was fast an easy
5 star review left by Connor from Somerset.
fab!
My test arrived very quickly in discreet packaging, the instructions were clear and the box it came in contained lots of information, even a pen and a condom! The test itself was easy. I only sent off for a kit on Friday and I us the test sent to me and the results sent back all within one week. Gives you peace of mind and is no hassle at all
5 star review left by Amy from Somerset.
To order a kit click on the link or visit one of our clinics